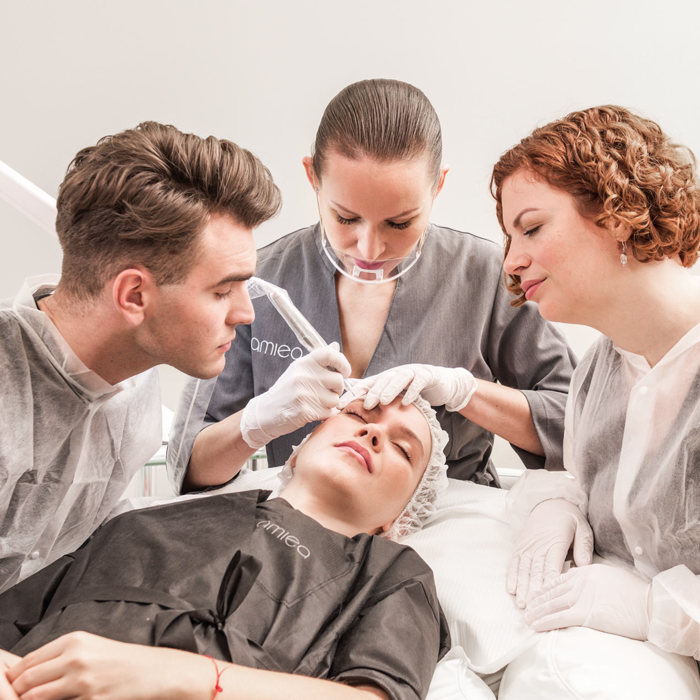 amiea – Strategy & conception of the amiea Academy
Client:
MT.DERM GmbH
Category:
Strategy & Consulting
Web:
amiea.com
amiea is a brand of MT.DERM GmbH and market leader in the field of micropigmentation. All devices, colours and needle modules are Made in Germany and have been in demand worldwide for over ten years.
The term micropigmentation covers various types of treatment. They all have one thing in common: colour is introduced into the second layer of the skin with the help of needles.
For eyebrows, eyeliner and lips, this is called permanent make-up (PMU). Another field of application is paramedical micropigmentation. This corrects cosmetic defects caused by diseases or surgical interventions. For example, practitioners reconstruct the areola in breast cancer patients or cover scars.
In order to maintain and expand its market leadership, the company wants to ensure that the first-class devices and accessories are also used in a first-class manner. The best PMU device is of no use if it is used by an artist who has not received sufficient training. There are currently no legal regulations for training as an PMU artist. With the new training, amiea is creating standards that will guarantee quality and safety.
With the help of qualitative interviews with experts and stars of the PMU industry, in workshops with experienced distributors and users, I developed a concept that was iteratively tested and challenged again and again and, after 1.5 years of development, was also reviewed in focus groups in March 2019.The first training sessions took place in September 2019.
In addition to facilitating and accompanying the process and handling the various parties involved (stakeholders and external agencies), I also wrote content (apart from teaching materials) such as the website, brochure, cover letter, newsletter, text modules, etc. I was also the project manager for the project. In addition, as project manager I supervised the publication of the 312-page textbook "Permanent Make-up – The Essential Steps to become an Artist".