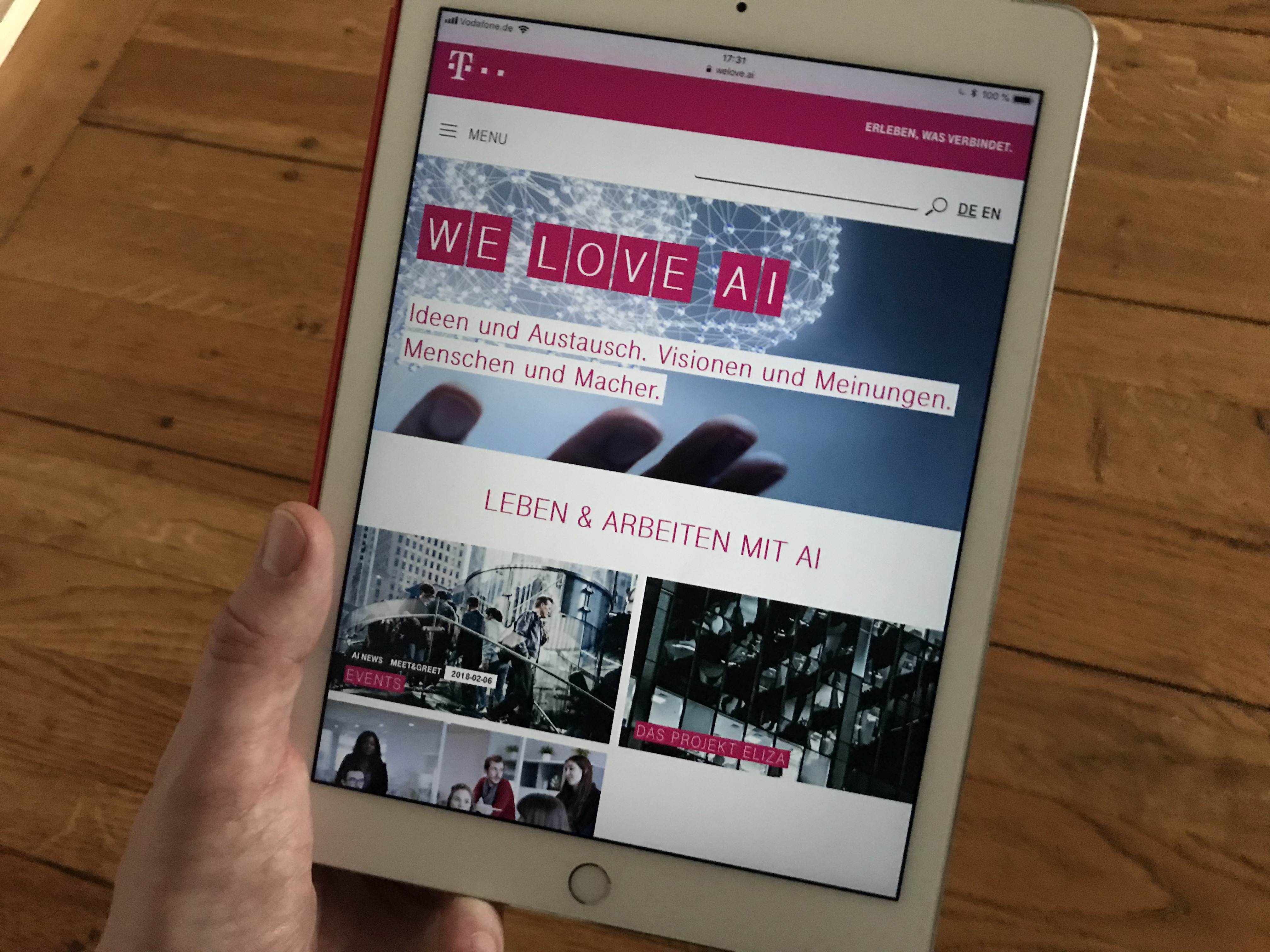 Telekom – Editor-in-Chief of tech blog welove.ai
Client:
Deutsche Telekom AG
Category:
Communications
Web:
www.welove.ai
Artificial Intelligence (AI) is a major issue in computer technology. This area of computer science deals with the simulation of intelligent behavior using techniques such as machine learning.
Opinions on the issue are complex and diverse. Some conjure dystopian horror scenarios with social consequences, some see hope for a better future with specific economic benefits. Bear in mind: AI has been around for some time already. It is used in digital assistants such as Apple's Siri or Amazon's Alexa, intelligent driving systems in cars or internet search engines. Such examples impressively highlight that we are in the middle of a digital revolution.
Deutsche Telekom's commitment for developing AI – Europe's largest telecommunications company, by the way – has largely gone unnoticed. In order to raise public awareness, the company has started the blog welove.ai in spring 2017 as a way to communicate its activities. The blog helped position the company in the market with the view to attract new specialised staff.
As Editor-in-Chief (on behalf of digital agency Neofonie), I involved from the very beginning and in charge of developing the content plan that responded to the motto of the blog: "Ideas and exchange. Visions and opinions. People and doers."
The blog takes a 360-degree approach including editorial writing, moving image and an audio service that reads the articles out loud. Its subject matters range from sophisticated technical essays to more general articles dealing with, for example, the social impact of the new technology. Besides portraits of employees who are directly involved in creating intelligent applications, it features interviews with and articles by board members, scientists and researchers from other institutions.
Photo by Franck Veschi on Unsplash